1969
10 years old.
Fourth - fifth grade.
I'm into my comic books, KXOK radio, monster movies
Visiting my dad was a little infrequent at this time, as far as I can remember, since the bachelor pad where he lived with his friend Mickey Morrow wasn't really a good place to spend the night. I remember my dad taking us out to some little airfield out in the country for a private prop plane flight over St. Louis this summer. The most exciting part was the takeoff, because the pilot let my older brother Gus, in the copilot's seat, pull back the stick for the takeoff. "Go real slow." he told him, and he went so slow that we almost ran out of runway. "Faster than that!" The pilot said, so Gus pulled the stick straight back and we took off almost vertically. Cool!
Summers as a child were spent out at Echo Lake, a little resort in High Ridge, Missouri where there was a little man-made lake with a concrete bottom, some cabins, a big lodge where everyone did the "Hokey Pokey", and a stinky horse trail. all the way out there we would sing songs with my Grandma Ina while she played her ukulele.
Accepted for gifted classes, I started fifth grade with Mrs. Stockman. It was expected that I go into gifted classes, since my brother was in them. It was an exciting thing for me, to be told that I was in an elite group of the smartest kids in the city. I had it all! I was going to be someone really successful, like a scientist or something.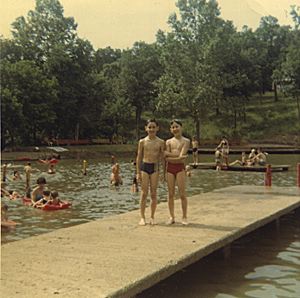 Gus and I at Echo Lake