1991
32 years old. The dawn of my Computer age.
Back in the US again, I found it impossible to get enough work to keep my savings intact, probably because I was terribly depressed about failing at my marriage and having to live in a country where I could never have 5 weeks of vacation a year and 14 months of salary and eat wholesome food. I complained constantly about the supermarket food, which turned my stomach after being spoiled for so long by the healthy food in Italy. I was a mess.
I worked as much as I could for my friend Maris Cirulis at the Idea Department, and looked for a real job. Most of my interviewers seemed to like my work, but were afraid to hire me because of the economy, my bad attitude, and a kind of confusion as to how they could sell a talent that was based on foreign work to their clients. It was a circle of conservatism that closed my best opportunity to excel in the design world.
So I moved home to Italy, to live in Bologna and freelance. Marnie and I looked everywhere for a decent place to live, but we couldn't find anything. We even put up flyers, which were completely useless. Marnie learned a lot of Italian, but never felt comfortable working there. She left to go back to St. Louis and I continued working. I worked all summer for D'Elia, but found out I couldn't stay legally anymore. In October I moved back to the US for good.
I took a trip to New York to spend a week hanging with Richard Wachter before he got married. It was the best time I ever had in NYC. We hit every jazz club in town, the wedding was dreamy, the reception held at the boathouse in Central Park on a beautiful autumn afternoon.
I finally got a job offer with a crusty old direct marketing hack named Bill Shoss, who was abusive and contemptuous about art directors to me constantly. His firm had recently been acquired by Kupper, which then merged with Parker, and I ended up in the ad world. The only time they used my talents to the fullest at this agency was one time when, in a fit of desperation and passive-aggressive pique, the creative director told everyone, even the lowly ones such as I, that they could submit ideas for a Pizza Hut billboard, since the client had rejected all of their best efforts so far. I threw my idea in a huge, multi-foot pile of comps that went off to the client and they picked it. Meanwhile, all the top creative, nice guys, were bailing out and quitting as fast as they could.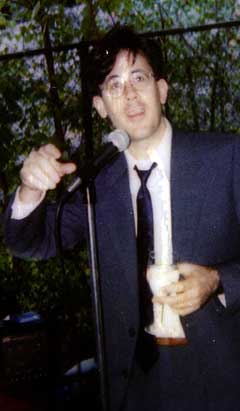 A toast at Richard Wachter's wedding,
Central Park, NYC