1994
35 years old. Maring-Kanefield days.
My friend Walt J told me he had a fax from a corporate recruiter looking for an art director, and since he was a writer, he gave it to me. This recruiter put me through a pretty exhaustive set of psychological tests and then finally sent me to a face-to-face with her client. To my surprise, it was Maring and Kanefield. They quickly hired me and I settled in to work for them for the next seven years.
From now on, my life became more about my job and less about me. I threw myself into my work, and lived to create great advertising for the agency. I loved my job and loved the people I worked for and with like family.
At the insistence of Marnie, who hated the idea of me asking her for a ride if my car broke down, I finally bought my first new car this year, a Saturn SL2.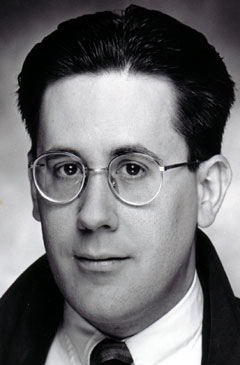 My corporate portrait by Suzy Gorman