1993
34 years old. Morris/Patti days.
I was convinced, as many were in those days, that the future of the world lay in digital communications. I read Mondo 2000 and bought myself a modem and a subscription to Applelink, AOL and CompuServe. I found out about hypertext, learned the rudiments of html and started building pages using a text editor with simple tags. Some of the pages in my site were made this way and are still as crude as they once were, from sheer laziness.
I made myself a clever little multimedia resume with a simple program called Action! from Macromedia. I got a few positive comments, but mostly people would sneer and ask why it wasn't done in Macromedia's Director instead. So I bit the bullet and bought Director, which cost close to $1,000. It was the biggest waste of money I ever made, and if I could have legally gotten my money back I would have done so in a heartbeat. I hated that program with a passion. I upgraded it 3 times, more good money after bad. The worst thing about that program is that nothing I did back then will run on any computer any more, whereas the web pages I made are still readable.
Bill and I tried to get jobs and nothing ever happened. I kept looking for full-time work but nothing came up. I freelanced as much as I could. Finally I got a steady gig at a place that was named Cuda, but which ended up being more or less a front to provide design services to an old PR hack who drove me crazy with her horrible people skills. I eventually had to quit because she was such a passive-aggressive nightmare.
Bill and I got an interesting opportunity to bid on a project for an agency called Maring Kanefield. The only problem was, though we didn't know it at the time, it wasn't really an actual job. I think it was rather a put-on by Paul Maring, who was friends with a friend of Bill's. The idea was that the Arch needed a trailer to show before their Odyssey Theatre movies, which were in the same format as Omnimax films, 70mm. I spent many hours researching the medium, contacting key players, and bidding out all the work involved with producing an animation for the Arch. I was bitterly disappointed when I found out that we wouldn't get the job, and would get nothing for all the work we put into concepting and bidding it.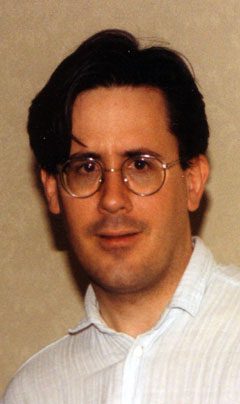 Trying to cope with America