1995
36 years old. Last gasp for Italy.
As soon as I could, I took a long vacation to Hawaii to visit my old friend Jeff Roth. I loved the Big Island with an intense passion I only seem to feel for volcanic places.
I worked hard to learn new aspects of my trade, particularly television advertising. The technical aspects of producing print from computer files were frustrating in these days, and I also spent a good deal of time perfecting my knowledge of the technical aspects of computerized print production, multimedia, and web page creation.
That summer, I got a surprise call from Renato D'Elia in Bologna, offering me a job. It seemed his other designer, Patrizia Zavatti, was going to have a baby and he would need someone to fill in for her while she was on leave. I agonized over this decision; on one hand, I could return to the life I preferred and pick up the pieces, on the other hand, I loved my job at MKW and the people I worked with. Finally I decided it was too good an offer to pass up, since D'Elia promised to rent me the apartment his sister used to live in, a cute little place just inside the city center, not far from the office.
I quit my job and moved there, but D'Elia reneged on several key issues of our agreement, and I discovered quickly that my experience as an art director had spoiled me and merely designing catalogs, no matter how beautiful, could no longer make me happy creatively. I found it too hard to readjust to my Italian lifestyle, so after a weeklong rest in the Cinque Terre, staying in the enchanting town of Portovenere, I came back to St. Louis and my job at MKW.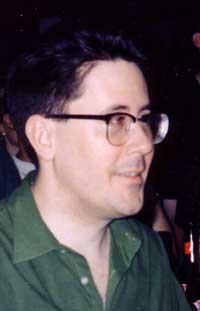 At the Hi-Pointe bar